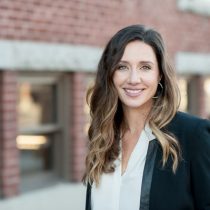 Amia started with Saratoga in 2006 and is now co-owner and Vice President.  She has been directly involved in the growth and organization of the company, helping to maintain and bolster the company's three core offerings: brokerage, management and consulting.  During her tenure, Saratoga has tripled their managed properties and Amia has completed over 200 leasing/sales transactions.  Amia is actively pursuing the respected CCIM designation, is involved with the local CCIM Chapter and also serves on the Board for Junior Achievement of Washington.
*             *             *             *             *             *             *             *
More about Amia:
I grew up in Bellingham and after a brief time away in Seattle and New Zealand, I returned to finish schooling and settle back into this PNW community.  When not in the office, my husband and I are busy and engaged with our three kids (and all their mostly-beautiful chaos).  We are often working on home/yard projects, doing as much as we can outside, and savoring time spent together with family and friends.  The journey of raising three young people while working to balance a career in real estate has caused equal parts joy, pride and stress-induced anxiety (!).   I am continually grateful to have such an amazing team of people, both in the office and at home, surrounding me.
---
Contact Details
---
Send a Message