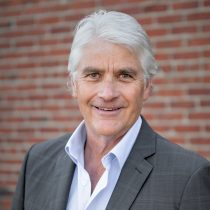 John is a lifetime resident of our wonderful Bellingham community. He has been an active outdoorsman since childhood – having climbed Mt. Baker at age 13 and having competed in the Ski to Sea race 16 times. John Still spends hours each week hiking throughout the hills and trails of Whatcom and Skagit counties. He can also be found mountain biking on Galbraith, Chuckanut and Blanchard Mountains. Mt Baker ski area has been a staple in his regimen of winter activities since the late 60's.
From an education standpoint, John attended Sehome High, attended the University of Washington and ultimately graduated from Western Washington University in 1985. While attending WWU John met his wife, Patti. After a short time in Seattle and Anchorage Alaska, the two moved back to Bellingham, built a home and raised two wonderful daughters.
At the young age of 16 John began working as a commercial fisherman in Alaska during the summers. This opportunity provided John with the available time to pursue a career in real estate investing and thus the means to obtain his real estate license. What followed was a highly enjoyable and successful career in real estate brokerage.
As a real estate agent, John first focused primarily on single family home sales. However, over the course of the last 7 years, more of his real estate work has been with clients seeking commercial investment and development opportunities. His work with commercial developers and investors has provided him with a broad range of experience. Joining the team at Saratoga was a natural progression. As a new member of the Saratoga team, John will continue to provide both residential and commercial real estate services for his clients.
---
Contact Details
---
Send a Message